Kontakt
Auf den Zahn gefühlt: AMORPHIS
01.02.2011
Vor kurzem tauchten bei Facebook Bilder auf, die den ehemaligen AMORPHIS-Sänger und jetzigen AJATTARA-Frontmann Pasi Koskinen mit einem widerlichen T-Shirt zeigen. Darauf waren das Konterfei und der Name des KZ-Arztes Josef Mengele zu sehen. Noch größer allerdings war das Entsetzen, als bei Youtube ein Video gefunden wurde, dass Pasi mit eben diesem Shirt bei einem Auftritt mit AMORPHIS am 31.12.2010 im Rahmen ihrer "Magic And Mayhem"-Tour zeigte. Wir baten AMORPHIS um ein Interview oder eine Stellungnahme dazu und bekamen folgende Antwort von der Band, zunächst im Originalwortlaut:
First. We truly apologize what he did on that show.
Amorphis has always been and still strongly is against every fascist movement there is. We don't represent or support any political or religious view. The fact what Pasi wore on that particulary Amorphis show as our guest is unacceptable and extremely stupid. It only shows his stupidity and immaturity. We would have never ever allowed this to happen if we would have known beforehand what he is going to wear on stage. We (the band) were on stage when guests started to appear. All this came as an unfortunate surprise for us. Unfortunately we saw what was on his shirt too late, after the show. Seeing his performance from the web was disgusting. So why we continued playing show? None of us from the band didn't realize the episode until it was too late. When you are on stage you always rely on your bandmates so much that you would never expect something this stupid to happen. The stage is the place where we try to give everything to the audience. Our tool is our music and no man`s random political view can destroy it.

Even more provoking is that Pasi seems to send messages through his Facebook site. From there you know what's going on. He is speaking from his point of view and represents totally his own state of mind. Pasi is not a singer of Amorphis and hasn't been for almost eight years. His political or whatever views do not represent anything what we do.

Regarding Rock Hard festival Amorphis is going to perform as current line-up. Pasi Koskinen is never again going to appear at any Amorphis show. He blew it... again. Beside that Kim Rantala, Olli-Pekka Laine, Pekka Kasari, Kasper Mårtenson and Ville Tuomi are more than welcome to appear if we decide to do more Magic and Mayhem shows. We have huge respect for these guys for their strong support and great music for Amorphis. We are extremely sorry about this and sad because of the Magic and Mayhem "retro" shows were great and it was so good to meet old band members which we haven't met for years. We respect our fans a lot and whatever decision they want to do with Pasi singing-albums is understandable. Burn them if you like.

We believe that as long as you have musically something to give you don't have to provocate the audience. If anyone has doubts considering what we think about nazism, check out the My Kantele EP`s back cover with printed anti-nazi sign - released back in 1995. We truly apologize that we let Pasi share the stage with us with that ridiculous shirt, that's all we can say. You won`t see that ever again on any Amorphis show, that's for sure. Now let's focus on more positive things!
At Helsinki 31.1.2011
Tomi Joutsen, Esa Holopainen, Santeri Kallio, Tomi Koivusaari, Jan Rechberger and Niclas Etelävuori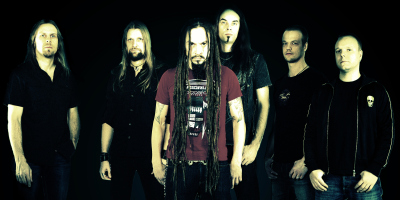 Hier die deutsche Übersetzung des Statements:
Erstens: Wir entschuldigen uns ehrlich für das, was er er bei dieser Show getan hat.
AMORPHIS waren immer - und sind es immer noch - strikt gegen jegliche faschistische Bewegung. Weder repräsentieren wir, noch unterstützen wir irgendwelche politischen oder religiösen Ansichten. Was Pasi bei dieser bestimmten AMORPHIS-Show als unser Gast getragen hat, ist inakzeptabel und extrem dumm. Das zeigt nur seine Blödheit und Unreife. Wir hätten niemals zugelassen, dass so etwas passiert, wenn wir vorher gewusst hätten, was er auf der Bühne tragen wird. Wir (die Band) waren bereits auf der Bühne, als die Gäste auftauchten. Das war wirklich eine bedauernswerte Überraschung für uns. Leider sahen wir zu spät, nämlich erst nach der Show, was er auf dem Shirt trug. Seine Performance im Internet zu sehen, war ekelhaft. Warum also haben wir die Show weitergespielt? Niemand von uns hat den Vorfall realisiert, bis es dann zu spät war. Wenn man auf der Bühne steht, verlässt man sich so sehr auf seine Bandkollegen, dass man nicht erwartet, dass so etwas Dummes geschieht. Die Bühne ist der Platz, an dem wir probieren, alles für das Publikum zu geben. Unser Werkzeug ist unsere Musik und niemandes willkürliche politische Ansicht kann das zerstören.

Noch provozierender ist, dass Pasi anscheinend Nachrichten über seine Facebook-Seite verschickt. Daran sieht man, was Sache ist. Er spricht aus seiner Sicht und repräsentiert dadurch seinen eigenen Geisteszustand. Pasi ist kein Sänger von AMORPHIS und ist es für fast acht Jahre lang nicht gewesen. Seine politischen oder sonstigen Ansichten repräsentieren nichts von dem was wir tun.

Auf dem Rock Hard Festival werden AMORPHIS mit dem aktuellen Line-up auftreten. Pasi Koskinen wird nie mehr bei irgendeiner AMORPHIS-Show auftreten. Er hat es vergeigt... mal wieder. Außerdem sind Kim Rantala, Olli-Pekka Laine, Pekka Kasari, Kasper Mårtenson und Ville Tuomi mehr als herzlich eingeladen, dabei zu sein, wenn wir nochmal "Magic And Mayhem"-Shows spielen sollten. Wir haben großen Respekt für diese Junge für ihre Unterstützung und die großartige Musik, die sie AMORPHIS gegeben haben. Die ganze Sache tut uns extrem leid, auch weil die "Magic And Mayhem"-Retroshows großartig waren und es wirklich schön war, alte Bandmitglieder wieder zu treffen, die wir seit Jahren nicht gesehen haben. Wir respektieren unsere Fans sehr und was immer sie mit ihren Alben machen wollen, auf denen Pasi singt, ist nachvollziehbar. Verbrennt sie, wenn ihr wollt.

Wir glauben, dass man es nicht nötig hat, das Publikum zu provozieren, solange man musikalisch etwas zu geben hat. Sollte jemand Zweifel daran hegen, was wir über Nazitum denken, sollte man sich nur mal das Backcover der "My Kantele"-EP von 1995 anschauen, dort ist ein Anti-Nazi-Symbol abgedruckt. Wir entschuldigen uns ehrlich dafür, dass wir zugelassen haben, dass Pasi in diesem T-Shirt mit uns auf der Bühne stand, das ist alles, was wir sagen können. Ihr werdet so etwas nie mehr bei einer AMORPHIS-Show sehen, das ist sicher. Und jetzt lasst uns auf positivere Dinge blicken!
Helsinki, den 31.01.2011
Tomi Joutsen, Esa Holopainen, Santeri Kallio, Tomi Koivusaari, Jan Rechberger und Niclas Etelävuori
Andreas Schulz
(
Info
)